Dedicated farm and livestock veterinary services from Greenside Vets
We have a long history of serving the farming community in the Scottish Borders and have built many valued relationships based on trust, expertise and customer care.
Our aim is to provide a prompt and effective service for all of our farm clients from small holders through to large-scale farm enterprises.
We offer a comprehensive range of services to allow us to support our clients in maximising productivity on their farms.
Emergency 24-hour call-out by our own experienced vets.
Routine ultrasound and manual pregnancy testing in cattle at competitive rates.
Health planning (herd and flock).
Investigation, treatment and disease control on an individual or flock and herd basis.
Hospitalisation facilities available for minor surgical procedures eg; sheep caesareans, IV fluid therapy, hernia repair and tup vasectomies.
Fertility assessments of bulls and tups using electro-ejaculation techniques.
Animal export and certification.
Routine dehorning and castration.
Comprehensive farm and livestock services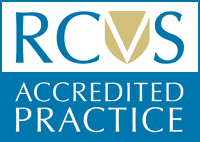 Telephone advice is freely given and our vets will happily discuss individual cases or disease control and eradication schemes. All aspects of herd and flock planning can be covered, particularly cost effective and appropriate use of anthelmintics and vaccines.
With easy access to our large animal unit, clients wishing to save the expense of a visit fee may bring sheep, tups or younger calves to our premises for examination or minor surgical procedures.
Our vets make extensive use of the facilities and expertise at SRUC Veterinary Investigation Centre in St Boswells, situated two minutes drive from the practice. This allows rapid diagnoses allowing farmers to manage their stock appropriately. The practice also hosts beef and sheep discussion groups to ensure that our clients are kept up to date with the latest veterinary thinking.