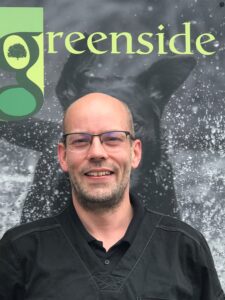 Fresh from their success at the recent Linnaeus Achievement Awards we caught up with Andy Armitage, Clinical Director for the Regenerative Medicine team at Greenside, to dig a bit deeper into the UK's leading referral centre for regenerative therapies and find out more about the revolutionary techniques they provide for treating pets.
How does it feel having been awarded the Freedom Award at the recent Linnaeus Awards?
It was actually a total surprise. We weren't expecting it but the whole team was very excited to hear our name revealed as the winner. We were all buzzing after the news and it made us feel so honoured to be chosen from such a group of worthy potential winners. We are very proud of the achievement and after such a difficult year for the whole team, it really couldn't have come at a better time to go into 2021 with a renewed sense of achievement and recognition.
How long has the Regenerative Medicine team been operating at Greenside?
We started regenerative treatments at Greenside about seven or eight years ago. What started off as a few cases for our own clients has grown and developed over the years to become a comprehensive service providing advanced treatments, not only for our first opinion patients but also for referral clients from all over the UK and even Europe. The unit first opened as a dedicated clinic for regenerative medicine four years ago.
And Andy, what made you decide to specialise in Regenerative Medicine techniques?
When I started treating patients with regenerative medicine many years ago (at a time when the technology was still very new) I soon came to realise that this was the treatment of the future. Some of my early cases had end-stage osteoarthritis and were on a cocktail of drugs, with their pain and debility not well controlled. I found that by targeting areas of pathology with stem cell therapy it often resulted in miraculous improvements with the reduction of pain, increased mobility and improved quality of life. The more cases I treated, the more amazing the responses I observed. When we were seeing such an amazing effect, we knew we had found a new treatment option that was minimally invasive and was able to reverse the chronic degenerative conditions that we were trying to treat. Therefore, it was not really a decision to specialise in this field but rather an evolution of mindset, with my workload becoming more focussed on using these therapies.
What techniques/treatments are included under the term Regenerative Medicine?
Regenerative medicine is defined as a branch of medicine that uses biological therapies to grow, repair or replace damaged or diseased cells, organs or tissues. Stem cells are used in regenerative therapies to enhance the body's ability to regenerate damaged tissues and metabolic processes after acute or chronic insult. In addition to stem cells, we also use platelet-rich plasma as another form of biological therapy as well as other treatment modalities such as laser therapy, shockwave therapy and physical therapies to help stimulate the healing process. Unlike traditional treatments, regenerative therapies have the ability to modify and reverse a disease process and restore function instead of just masking clinical signs, such as pain.
How do these differ from other treatments that are available?
Regenerative therapies are minimally invasive treatment options that do not require surgical intervention or drugs that may have side effects. We are using the body's own regenerative cells to treat or cure a disease process. Regenerative therapies can not only stop further degeneration but also repair and replace abnormal tissues such as torn tendons or damaged cartilage.
What benefits does Regenerative Medicine provide to the animal?
It provides an alternative treatment option which does not involve invasive procedures, and that has the potential to address the underlying disease process and treat pain and debility without any side effects or complications. We have developed protocols to successfully manage patients with elbow dysplasia without surgical interventions and believe we have found the most successful treatment option to treat this challenging and common condition. Regenerative medicine provides additional options for managing many conditions where traditional treatments are not effective or have failed. It gives owners more options to consider and, in many cases, provides greater efficacy and better outcomes in a minimally invasive manner.
You recently refurbished the Regenerative Medicine facilities at Greenside – what do you now have available for treating those animals referred to you?
We now have a purpose-built separate centre for regenerative medicine and rehabilitation and pain management. We have a diagnostic suite that allows us to take incredibly detailed radiographic images and high-resolution musculoskeletal ultrasound to investigate soft tissue problems, intra-articular structures and intervertebral discs. We have needle scopes to visualise intra-articular structures in a minimally invasive manner that is even less invasive than arthroscopes. The new facility also boasts two areas for objective gait assessment - including a gait analysis treadmill and a static force plate and stance analysis. These are used to diagnose subtle lameness and compensatory issues as well as to measure the response to treatments in an evidenced-based objective manner. We have two purpose-built physiotherapy suites with all the equipment required to successfully rehabilitate animals following surgery or regenerative therapies. We also have an underwater treadmill that is used for hydrotherapy.
Is there a particular case that stands out for you over the years?
One of the first cases I treated with stem cells was Cassie, a spaniel with severe generalised end-stage osteoarthritis and intervertebral disc disease. She was on a combination of drugs and multimodal approaches to control her pain, but she was deteriorating. Her owners were considering euthanasia when I offered regenerative treatments. We injected all of Cassie's joints and spine with autologous stem cells and she had an awesome response. In twelve weeks, she went from a dog with little quality of life to one that was full and active. Her joints prior to treatment were inflamed, painful, restricted and any movement resulted in audible crepitus due to complete loss of cartilage. Three months following treatment the range of motion in her joints had increased dramatically, any movement was smooth without crepitus, and her mobility and activity restored. Cassie went on for three more, pain-free, years. Cassie's response to treatment changed the way I practiced veterinary medicine.
What is the best thing about working as part of the Regenerative Medicine team at Greenside?
Having a multidisciplinary team that are all involved in the care and management of the case. Also, having colleagues who are my friends with everyone working hard to ensure the best outcomes for the patients under our care. The responses we see are life-changing for the patient, as well as the owners, and it is so rewarding to work in an environment where we can truly make a difference to our patients' lives.
And finally, what does the future look like for you and the Regenerative Medicine Team?
The service and team have grown organically over the years and we are looking forward to welcoming four new members of the team in January to allow expansion of our services and caseload. We have collected a lot of data on treatment responses to regenerative therapies over the years and are now in a position to publish the data. We hope to publish a paper in the early part of 2021 detailing the response to treatment in hundreds of dogs. We hope that this publication will raise awareness and promote the efficacy of our pioneering treatments so that we can provide these to many more patients and improve their quality of life.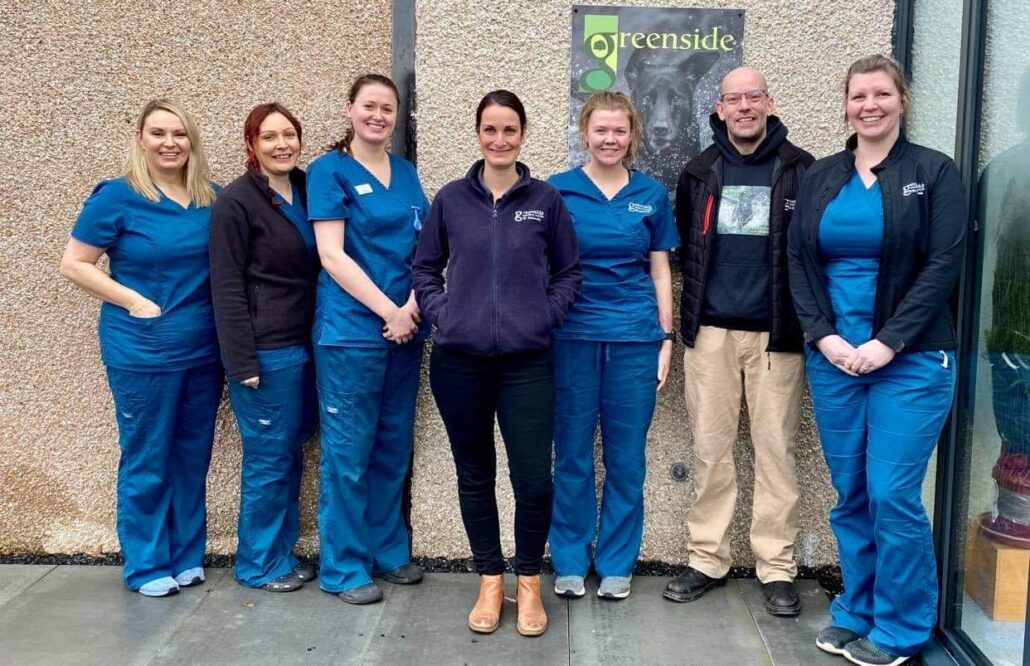 The Regenerative Medicine Team from left to right - Leanne, Katrina, Christina, Catherine, Kathryn, Andrew, Aimee.
You can find out more about the work the team do here.